This class is a core class of the bibliographic data model - it represents a bibliographic reference, a citation. It is a super-class for all specialized citation types, but it can also be instantiated and represent an additional specialized citation type.
The BibRef class has several explicit attributes, which are reasonably general and which originate from the Dublin Core Metadata, and a hashtable that can hold any number of additional attributes. The same pattern is repeatedly used on several other places of the data model. It achieves extendibility without losing interoperability if the following rules are obeyed:
The implementation must be prepared for cases when the explicitly defined attributes are empty (containing null value, or, in case of arrays, an empty list of elements).
The names of additional properties (keys of the hashtable) must be obtainable and/or checkable using controlled vocabularies (see interface BibRefSupport for details).
The values stored in that hashtable should be of "reasonable" types. Any implementation should understand at least basic Java types (in most cases the String type is the best choice). The more exotic types are used, the less interoperability between implementations is likely.
The BibRef class is a parent class for derived classes representing bibliographic references to specialized bibliographic resources. The following classes are defined explicitly: BiblioBook, BiblioArticle, BiblioBookArticle, BiblioJournalArticle, BiblioPatent, BiblioThesis, BiblioProceeding, BiblioTechReport, and BiblioWebResource
The active participants of the process of creation and dissemination of the bibliographic resources are defined by the class BiblioProvider and its sub-classes. The participants can be people, organizations, or even software services (mainly used for new digital resources). The most obvious examples are authors, but it includes also publishers and other contributors.
And finally, there is a class BiblioJournal describing journals. The citations referring to the journal articles have a reference to this class.
This is an overview of all participating classes and their attributes: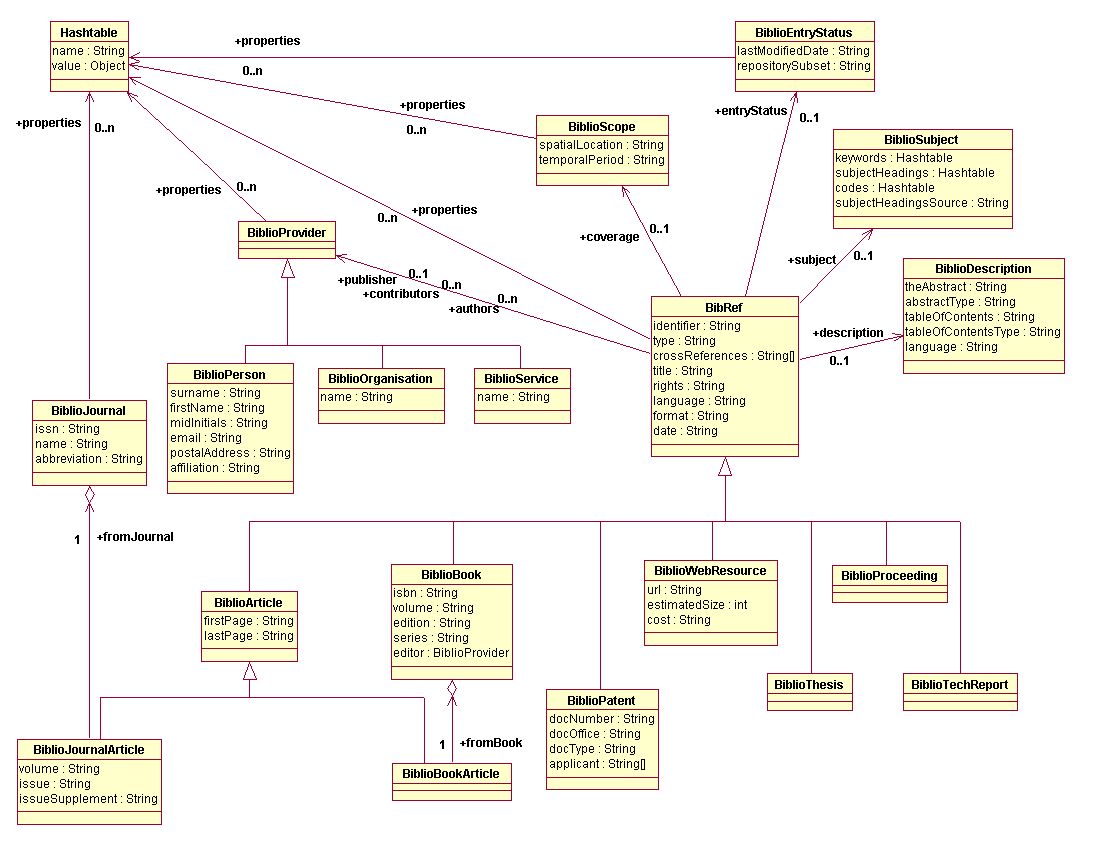 .